Photo Courtesy: global.toyota

The Hilux series has been one of the best selling vehicles in the global market because of its rugged exterior, excellent off and on-road driving, and high-class comfortable interior. If you are browsing for not only a truck with good terrain abilities but also a car-like pickup truck that gives you a sense of style, then the Toyota Hilux is a big catch. 
At Cartanzania.com, we believe that the Toyota Hilux has what it takes to give you a stress-free and convenient driving around town in Tanzania.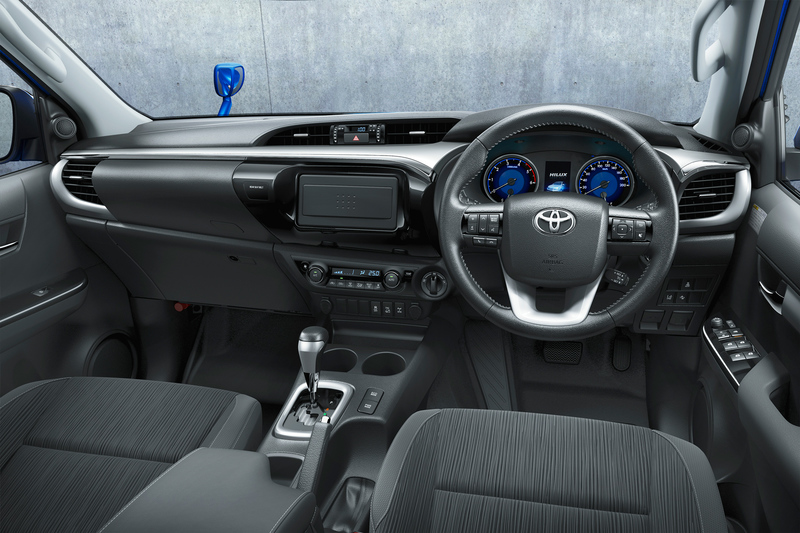 Photo Courtesy: global.toyota
The Toyota Hilux comes in different trim levels and grades, so depending on what Hilux model you choose would determine the types of various features you get. However, we are going to look at a general overview of the Toyota Hilux's standard features: 
Engine

For the engines, the Toyota Hilux comes with either a diesel or a petrol engine. 
The petrol engine types come in the following specs: 

•    2.0-litre four-cylinder
•    2.4-litre four-cylinder
•    4.0-litre V6
The 2.0-liter petrol engine produces 102 kW and 183 Nm of torque. 
The 2.4-liter engine offers 122 kW and 245 Nm of torque. 
The 4.0-liter V6 prestige engine in the Hilux line-up provides 175 kW and 376 kW. However, this engine is only available in a 4x4 Double Cab Raider format mated to a six-speed automatic transmission.
While the diesel engines come in two types, both engine types are four cylinders. 
For the diesel engines, we have the: 

•    2.4 liter GD-6 (the "6" represents its serial number, not its number of cylinders.), which provides 110 kW and 343 NM. 
•    Top leading diesel 2.8GD-6 engine (again, this is a four-cylinder), which boasts of 130 kW and 420 Nm. 
Both engines are turbocharged with variable vane-housing characteristics to increase low-speed torque.
The 2.4-liter diesel engined Hilux produces a horsepower of 148 hp. Although it doesn't sound much, the Hilux still has enough pulling power to tow a  3,200kg load using its tow bar or can carry 1,120 kg in its load bed. And with its manual gearbox, an acceleration from 0-62 mph takes up to 13.2 seconds, while with its automatic gearbox, you get up to 12.7 seconds. If you want to save fuel costs and have a smooth driving, then choosing a manual transmission would be a good option. For both the AT and manual transmissions, the top speed is about 105mph.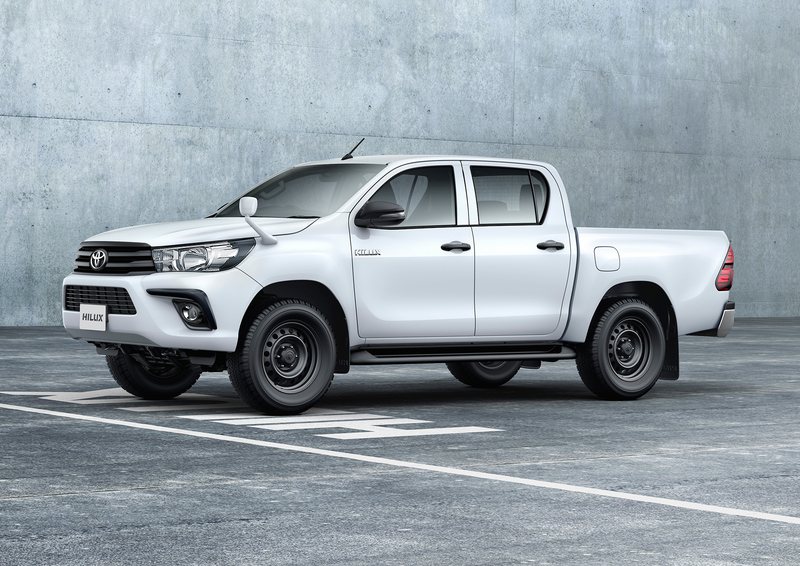 Photo Courtesy: global.toyota
Exterior

As earlier mentioned, it solely depends on the model and grades of the truck. New models provide optional 18 inches alloy wheels, alloy bullbar, alloy wheel lock but set, genuine door handle protection, Toyota-enhanced warns winch, polished nudge bar, Snorkel, bonnet protector, side rails, slimline weather shields, front recovery points, LED light bar, rectangular driving lights, etc. 

But generally, every Hilux brand comes with side steps, Ute liner, roof racks, tow bar, bumpers, front/back LED lights, and alloy wheels.
The vehicle also uses lightweight, anti-corrosion steel sheeting for its body and deck, which helps to contribute to the Hilux's durability and strength.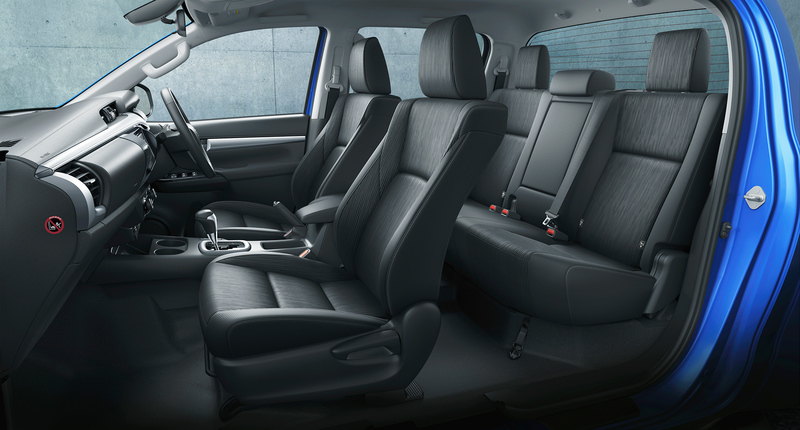 Photo Courtesy: global.toyota
Interior

The Toyota Hilux has three formats  -  Single Cab (with two doors, two seats, and a long load bed), Extra Cab (with portable rear-hinged back doors and a small rear bench), and most notable Double Cab Pickup for family purposes, which comes with full-sized doors, and seating for five people - although its load bed length is shorter.  
It has quality seating materials of either fabric or leather and uses a hydraulic steering wheel made of Urethane. In every Hilux, you will find a soothing cabin with a fully equipped dashboard, steering switches, airbags, audio speakers, air conditioners, ventilators, heater control panel, side door buttons, etc.
Tech features

Current models have tech features that include the Toyota Touch 2 with Go Navigation, Toyota Touch 2 multimedia system, 8'inches touchscreen screen, nine speakers, Bluetooth connectivity, Digital Audio Broadcast (DAB), JBL Premium Sound System, USB connector, smartphone integration, Apple CarPlay, and Android Auto.  
Safety

The 2019-21 Hilux comes with front parking sensors, rear parking sensors, reversing Camera, Pre-Collision System with Pedestrian and Cyclist Detection, Road Sign Assist (RSA), Intelligent Adaptive Cruise Control, Anti-lock Braking System (ABS), automatic headlight leveling, Brake Assist (BA), Downhill Assist Control (DAC), Emergency Brake-light Signal (EBS), Hill-start Assist Control (HAC), Immobilizer, Traction Control (TRC), Trailer Sway Control (TSC), Vehicle Stability Control (VSC), Lane Departure Alert (LDA) with Brake-induced Steering, rear fog lamps, Supplemental Restraint System (SRS) airbags - 7 airbags, and many more.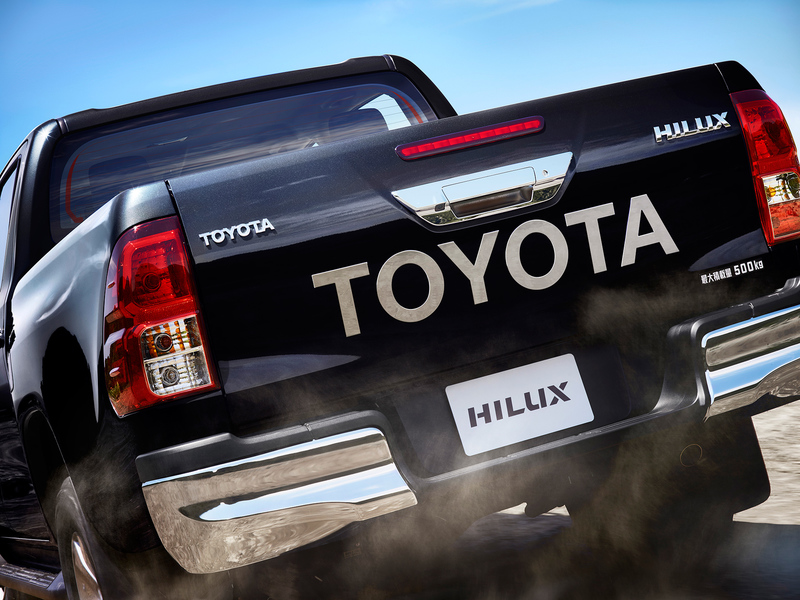 Photo Courtesy: global.toyota
So if you're still not sure of purchasing a Toyota Hilux, here is a short YouTube video to clear your doubts - https://youtu.be/Rxppsu6QhO8
Cartanzania offers a variety of Toyota Hilux models at selling prices ranging from TSH 10,500,000 and above. You will also find the latest 2019-2020  Hilux at negotiable amounts between TSH 18,000,000 to TSH 50,000,000. Feel free to communicate with different car dealers in Tanzania by offering your best prices on the vehicle.
Do not forget to subscribe to www.cartanzania.com for the latest news on your favorite vehicles.